Our History
Started by owner Tim Peterson, literally in his garage more than 28 years ago, Commercial Door and Frame began as a one-man shop for door installation and hollow metal. A welder by trade, Tim saw the need for fabrication of hollow metal and began marketing himself in the Central Florida area to contractors. The company grew and as time progressed his expertise and precise knowledge of doors, frames and hardware became evident with his increasing sales year over year.
Tim's wife and business partner Lori Peterson did the books and billing while working full time at another business. As the company grew Lori joined full time in 2000 taking over all the inside operations of CDFS. Lori and Tim's only son, Sam Peterson worked at CDFS pretty much his entire life. As a young boy he would accompany his dad on jobs, learning the trade of welding and installation and ultimately learning the business. After high school Sam joined the company and helped in its growth and success.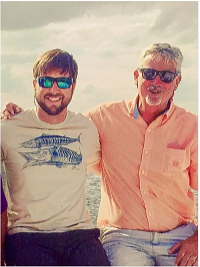 Sam and Tim Peterson enjoying one of the many trips they had together fishing and diving
Always a family business first, many of the Peterson's family friends joined CDFS. Some of Sam's friends joined the company after high school and some came after they graduated from college. From warehouse to estimators and project managers- the family atmosphere made CDFS a wonderful place to work and have a career.
The success of CDFS attracted many talented people over the years. Top notch project managers, seasoned estimators and extremely knowledgeable installers continue to be the backbone of Commercial Door and Frame. General Manager Stan Hicks, who joined CDFS in 2016 is an Architectural Hardware Consultant (AHC) and Electronic Hardware Consultant (EHC) and brings another level of talent and expertise to the team. His knowledge and training internally has created a team of efficient and accurate PM's and estimators who understand value engineering. Stan's tenure of more than 50 years allows for CDFS to bridge the gap of insufficient plans and questionable specifications setting us apart in the industry.
In 2017, tragedy struck the Peterson family. Leaving the office to attend a meeting 30 minutes away, Sam Peterson now Vice President, was killed in a car accident. Sam was 30 years old and left behind his 3 year old daughter and his fiancé. Ironically that same exact day, his father Tim was diagnosed with stage 4 cancer and passed away June 20, 2018 – 8 months after Sam's tragic accident.
The "Commercial Door Family" held strong. Even through such tragedy, the team was even more determined to keep Tim and Sam's legacy alive. Owner Lori Peterson is President and CEO and continues to lead the team as she has for over 25 years. The CDFS Family continues with Mike Grybek, Sam's lifelong best friend who joined CDFS in 2005 and is now Vice President, Ben Lewis another CDFS "son" who is project manager, and Lisa Welton, Lori's sister who is CFO and Operations . CDFS continues to have record year over record year, improving all aspects of the business and becoming a true solution provider. We will always have Tim and Sam in our hearts and will never forget their lifelong dedication to this business and the employees.